Book of Abstracts
for
Society of Agriculture, Environmental Resources and Management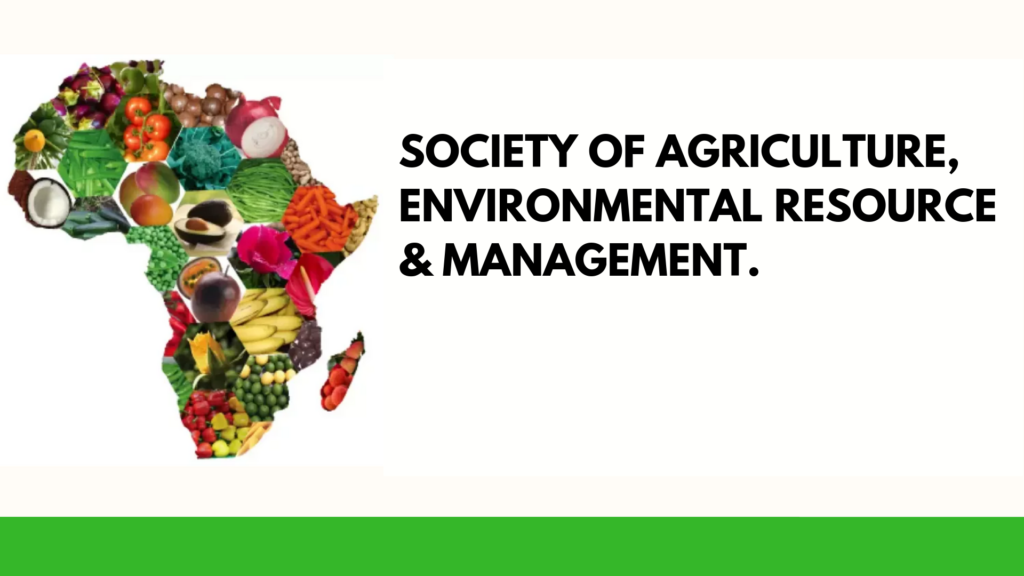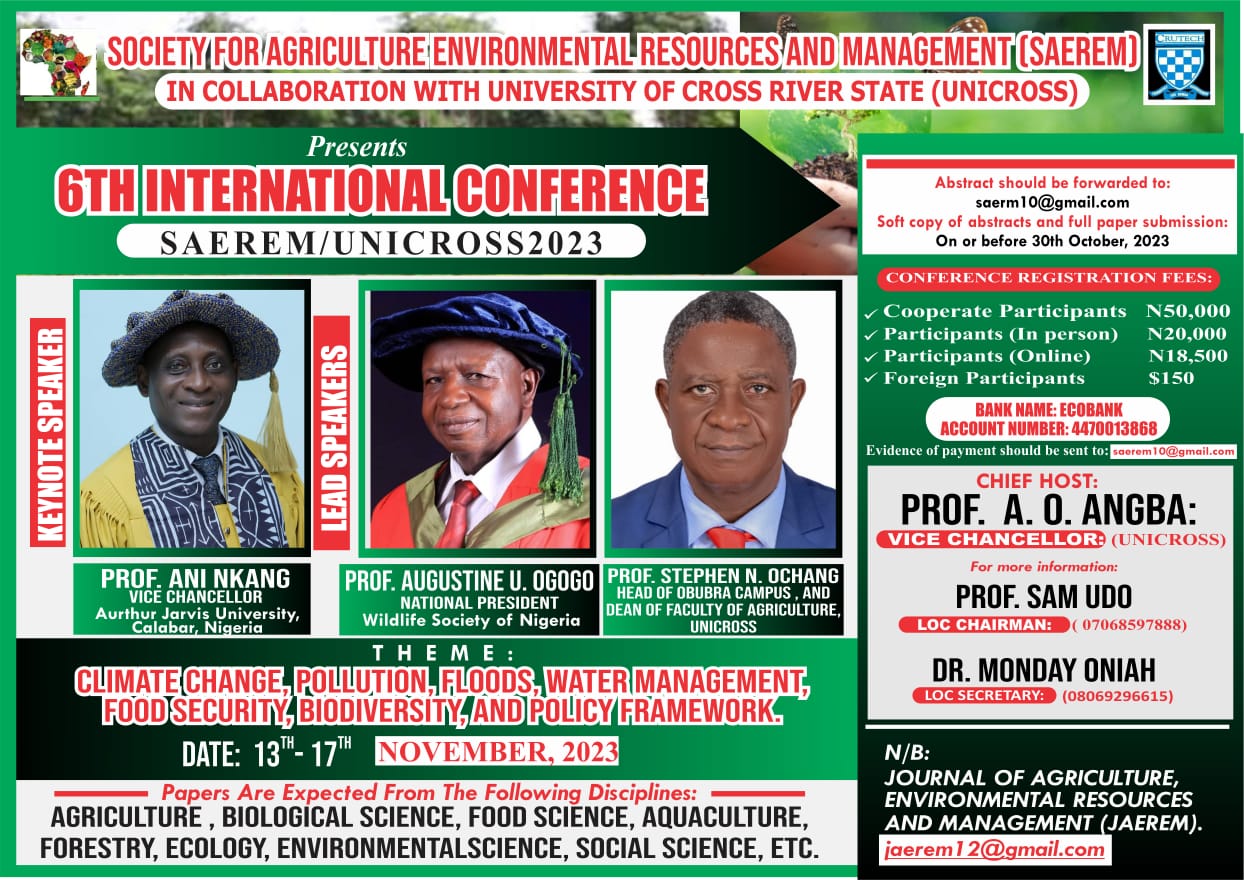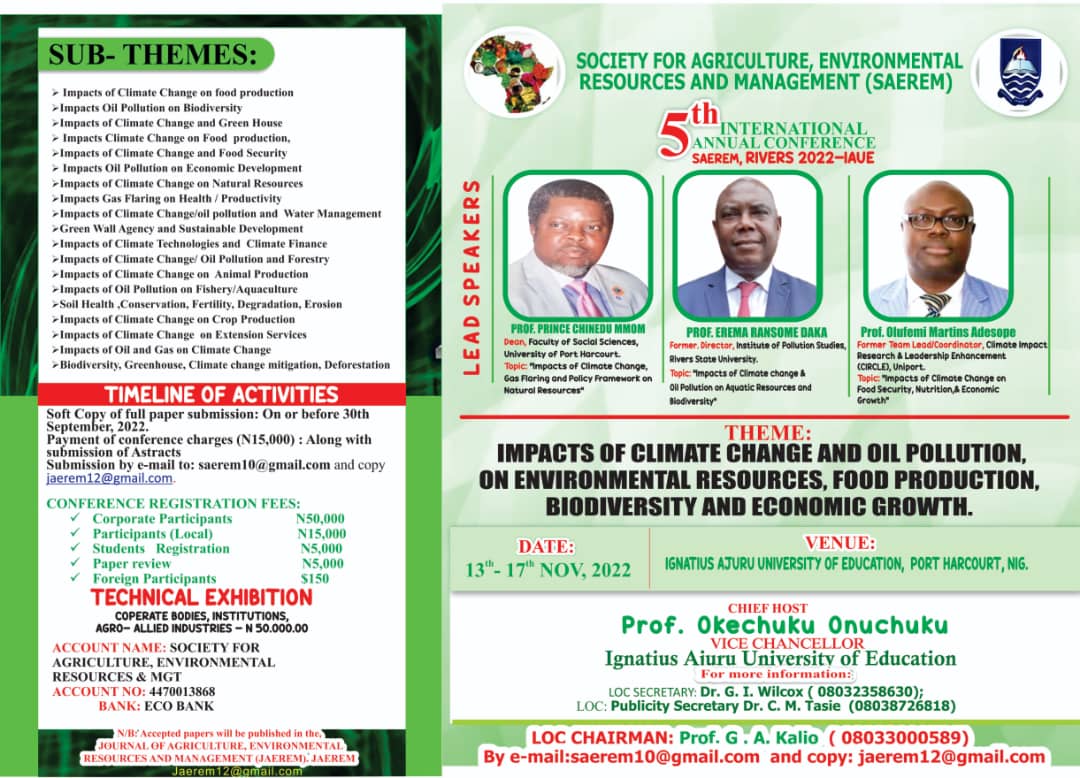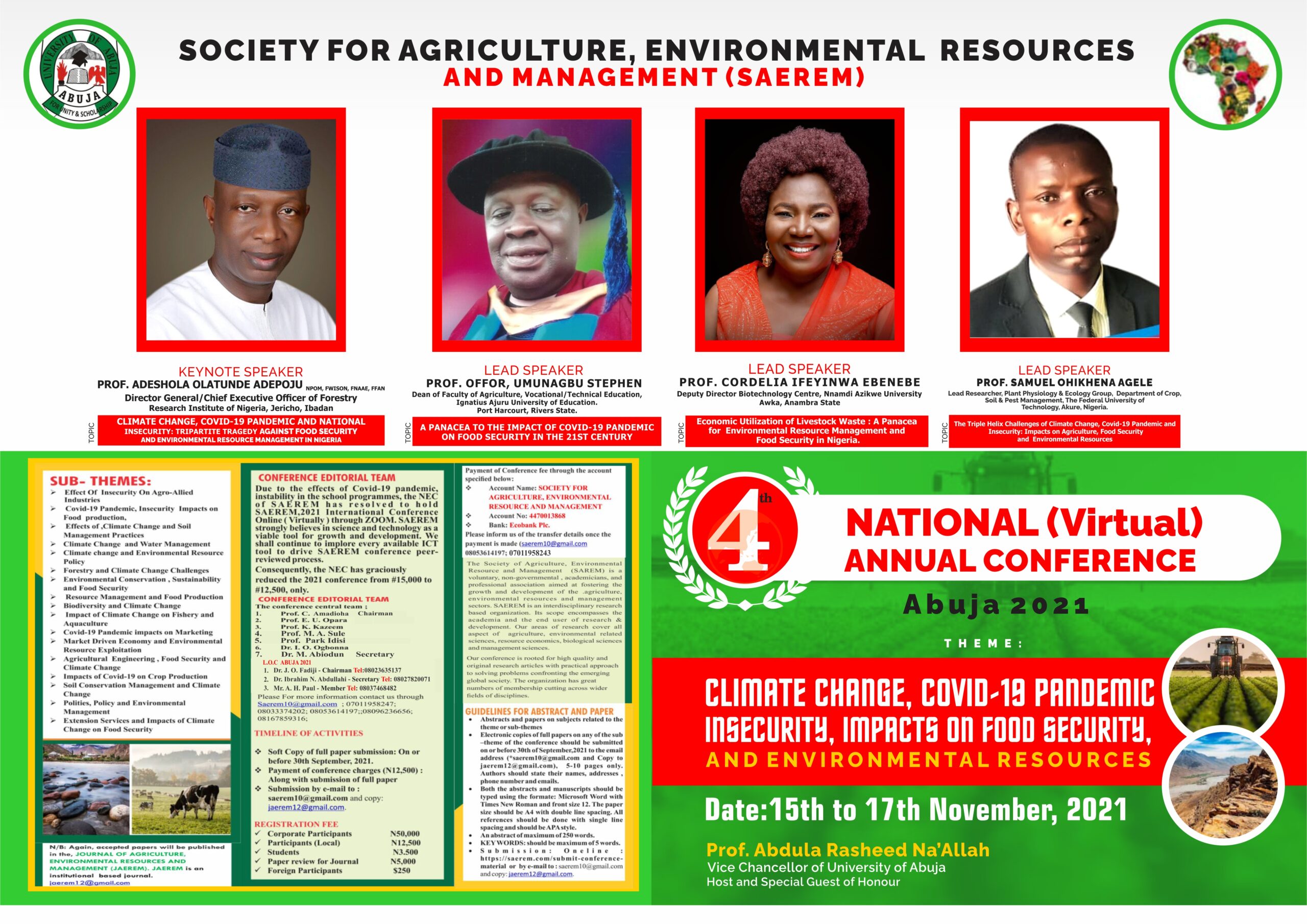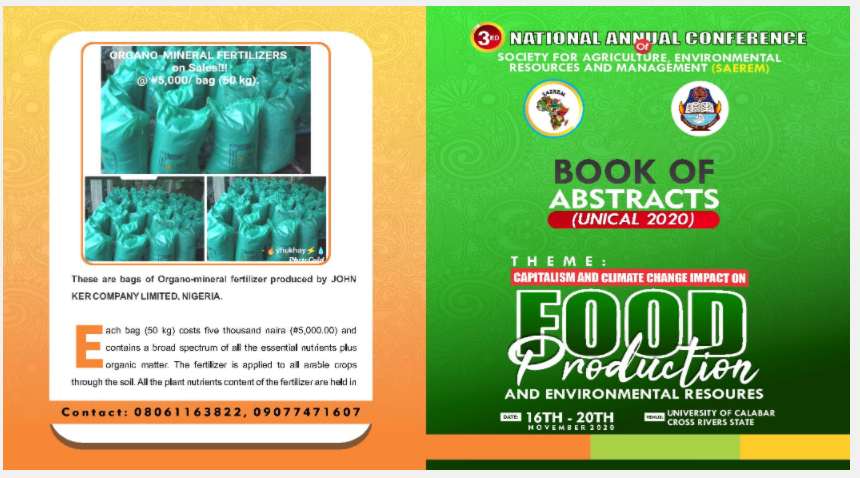 COMMUNIQUE ISSUED AT THE END OF A 3-DAY NATIONAL CONFERENCE OF THE SOCIETY FOR AGRICULTURE, ENVIRONMENTAL RESOURCES AND MANAGEMENT (SAEREM) HOSTED VIRTUALLY BY UNIVERSITY OF CALABAR, ON 18TH -20TH NOVEMBER, 2020; (UNICAL2020)
INTRODUCTION
The Society for Agriculture, Environmental Resources and Management (SAEREM), a multi-disciplinary organisation of academics as well as industry and health sector practitioners across the 36 States of Nigeria, held a 3-day virtual Conference hosted by University of Calabar, on 18th-20th November, 2020. The theme of the Conference was: Capitalism and Climate Change Impact on Food Production and Environmental Resources. Its aim was to explore issues of Climate Change and its effect on agriculture and the environment with a view to finding adaptation and mitigation measures. Issues of sustainability of agribusiness as well as the current COVID-19 pandemic as regards food, were also considered.
THE CONFERENCE
Participants at the conference included the National Executive of the Society, guest speaker, lead paper presenters, lecturers, industrialists and students. The guest speaker, Prof. Francis E. Bisong, the current Dean of the Faculty of Environmental Sciences at the University of Calabar, anchored his presentation on "Capitalism, Climate change and environmental resources: Drivers, impacts and controls". The first lead presenter, Prof .Edith Chuku, the former Director of Students Industrial Work Experience Scheme (SIWES), Rivers State University, on the other hand, discussed Sustainable Agriculture: A nexus for Environmental Resource Management. The second lead presenter, Prof Anderson C. Amadioha, the former Rector of Imo State Polytechnic, Umuagwo, rooted his own presentation on "Climate change impact on sustainable food production, environment and human resources.
Other papers presented were as follows:
Drought and Food Security Challenges In Sub-Saharan Africa: The Benue State Scenario, Nigeria.
Analysis of the Satisfaction Level of Nigerian Crop Farmers under the Compensation Provisions of the Land Use Act
Household Food Insecurity Coping Strategies during Violent Conflict in Taraba State Nigeria
Effect of Soil Media on Seedling Growth of an endangered Bio-diversity species Gnetum africanum (Okazi)
Effect of Climate Change on Fish Production in Nigeria
Comparative Studies on Microbial and Nutritional Analysis of Self Processed and Commercially Processed Citrullus colocynthis (egusi) Seeds
Comparative Studies On The Nutrient Compositions Of Four Varieties Of Egg Plant (Solanummelongena)
Influence Of Tillage Types And Potassium Fertilizer Application On Soil Properties And Yield Of White Yam (Dioscorea Rotundata) On An Ultisol Of South Eastern Nigeria
Need For Youths Engagement In Cocoa Production In Nigeria: Challenges and Prospects
Studies On Chemical Properties Of Three Utilized Agrowastes In Nigeria
What Drives Crop Farmers' Adaptation to Climate Change? Evidence from Smallholder Farmers in Kogi Agricultural Zones, Nigeria
Extension Services and impact of Climate Change on Food Production
Efficiency Of Resource Use For Rice Production on Inland valleys Of Central Cross River State, Nigeria.
Microbial (Fungi & Bacterial) Densities And Morphologies In Rhizosphere Soil On Maize And Okra In Obio Akpa
Microbial Contamination Of Bambara Seed (Vigna subterranean) In Three Markets In Umuahia, Abia State
Influence of Different Organic Soil Amendment on the growth and Biomass Accumulation Of Khaya grandifoliola Seedling
Evaluation Of Nutrient, Anti-Nutrient And Acids Compositions Of Five Citrus Peels
Determination Of Some Air Pollutants and Meteorological Parameters In Abattoir
Determinants Of Climate Change Adaptation Among Arable Crops Farmers In Akwa Ibom State, Nigeria
Bioremediation of a Crude Oil Pollution Using Poultry Manure on a Coastal Plain Sand of Obio Akpor, Southern Nigeria.
From the Papers, Conference noted several factors militating against agriculture in Nigeria presently. These include the adverse effect of drought induced by climate change; insecurity; adverse laws such as the Land Use Act; low youth involvement; poor soil management; poor seedling management; poor processing and marketing as well as low extension services. Conference therefore calls for governments at all levels to review their policies towards dealing with the identified militating factors. Farmers as well as all other food value chain operators, were also called upon to update their techniques to cope with emerging challenges and for maximum benefit to them and the society. Regarding the Environment, Conference was worried with the level of pollutants in the environment and has therefore proffered sustainable ways of dealing with some of them.
Awards of honour were given to the following persons: Prof. Francis E. Bisong, Prof. A. C. Amadioha and Prof. Edith C. Chuku.
The Conference came to a successful end with a vote of thanks from Prof. N. M John, the Chairman of the Local Organizing Committee (LOC).
VENUE OF NEXT CONFERENCE
Members from Rivers State University and University of Port Harcourt indicated interest in hosting the 2021 Conference. It is expected to be approved by SAEREM NEC later.
CONCLUSION
The participants expressed satisfaction with the success of the Conference which was held against all odds occasioned by the COVID-19 pandemic. SAEREM looks forward to seeing everyone, next year.
UNICAL2020
SAEREM CONFERENCE COMMUNIQUÉ DRAFTING COMMITTEE
1. Dr. I.Ogbonna Chairman
2. Dr. U N.Emiri Secretary
3. Dr. P. Nnadi
Member
4. Mr.U. M. SHAIBU Member
5. Dr. M.O. Oniah
Member.
6. Mr. T. D.Uchua
Member.
7. Prof. Opara E. Umunna , Committee Adviser