BRIEF PROFILE OF PROFESSOR ANDERSON CHIDI AMADIOHA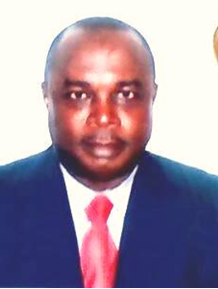 TOPIC: CLIMATE CHANGE: IMPACT ON SUSTAINABLE FOOD PRODUCTION, ENVIRONMENTAL AND HUMAN RESOURCE
Prof. Amadioha, Anderson Chidi (FNIE) a professor at Michael Okpara University of Agriculture, Umudike Abia State. He was born on 5th July, 1960; at Iho-Dimeze. He is from Ikeduru local government area in Imo state, Nigeria. He is married with children.
Prof. Amadioha obtained his first school living certificate at Aguata High School, Aguata (1971 – 1976). He attended Holy Ghost College, Owerri (1976-1978) where he obtained his GCE/AL -4Papers. He proceeded to University of Ife (OAU), Ile –Ife. (1980 – 1983) where he obtained his B.sc,(Hon.Botany) in July,1983.He obtained M.Sc,(Plant Pathology) In Sept., 1985 at University of Ibadan, Ibadan.He further moved to University of Port-Harcourt, Port-Harcourt (1986 – 1987) to obtain a PGDE in September,1987. And in Feb., 1994 Prof. Amadioha bagged his Ph. D in Plant Pathology, at University of Ibadan, Ibadan. Prof. Amadioha belongs to several professional and reputable bodies. He has been a reviewer of several international journals of repute. He has over 54 journal publications and 10 conference proceedings both locally and internationally.He authored three books.
He attended several Courses both locally and internationally, such as:
Basic Security in the field, Sept., 2004, UNIDO
Advanced Security in the field, April, 2007, UNIDO
Advanced Course on Quality and safety of agricultural products, Oct. 2008. Nanjing Agricultural Univ., China
Horticultural Crop Production in Jan., 1999, Hebrew Univ. of Jerusalem, Israel
Integrated Management of bacterial diseases of cassava and cowpea, April, 1999, IITA, Cotonou, Republic of Benin
International Training Course, June, 1997, UNESCO and National Agency for Sc. Biotechnology and Engr. Infrastructure (NASENI)
Farm Data Management, Sharing and Services for Agriculture Development, Nov., 2019, FAO and CTA
Integrated Pest Management, Jan., 2020, USA, Soybean Innovation Lab
He is a registered and active member of Bio-NET International (UK) –Founding member The Systematic Association,London (UK),1993; International Neem Association ,November, 2006 Kunming (China);Nigerian Society for Plant Protection, June, 2003;Agricultural Society of Nigeria, 2006;Biotechnology Society of Nigeria. 2005; Mycological Society of Nigeria, June, 2013 Nnamdi Azikiwe Univ. Awka ; Biopesticidal Society of Nigeria, November, 2014, Univ. of Calabar, Calabar; Africa Potato association, August, 2019. Kigali (Rwanda); International Plant Protection, November, 2019 Hyderabad (India).
Prof. Amadioha has held several administrative positions:
He was the Rector, Imo State Polytechnic, Umuagwo, Imo State
He was the Dean, College of Crop and Soil Sciences (MOUAU)
Head of Department, Dept. of Plant Health Management (MOUAU)
He is a Member, University Senate
He is a Member, Joint Admissions and Matriculation Board (JAMB
He is a Member, Imo State Scholarship Board
He is the Chairman, Teaching and Research Farm Committee, MOUAU
He is the Chairman, Root Crop Research Programme, MOUAU
He has received several reputable awards from reputable institutions, such as:
Fellowship Award (FNIE) from Institute of Economics of Nigeria
Award of Excellence from Nigeria Institute of Physics
Leadership in Education Merit Award from Time News
Africa Leader of Integrity Award from Africa International News Magazine
Best Rector of the year 2008 Award from National Assoc. of Imo State Students
Award of Excellence in Service from National Assoc. of South East Students
Shell Scholarship from Shell Petroleum Development Company
Best Higher School Science Student from Holy Ghost College, Owerri
Imo State branch Patron from Non-Academic Staff Union (NASU)
Prof. Chidi Amadioha,is consultant to several organization and government, such as:
Imo State Government: cassava, cowpea and soybean production and training of farmers
Abia State Government: Cowpea Production and training of farmers
Federal Government: Review and Re-design of curricula and syllabi of Federal Staff Training Institutions.
UNIDO: Conservation and Sustainable Utilization of Medicinal, Oil, Aromatic and Pesticidal (MOAP) plants; Biopesticides and Pollution of Inland Water Ways
Enugu State Government: Rice production
Agip (Green River Project): Improved Oil Palm Seedlings.
United Nations University: Member College of Research Associates
Seed for Africa (UK): Establishment of vegetable gardens and orchards in primary schools
He is a lover of Table Tennis and Foot ball.
Therefore, I present to you this great erudite of scholar, Prof. Chidi Amadioha, to make his presentation.